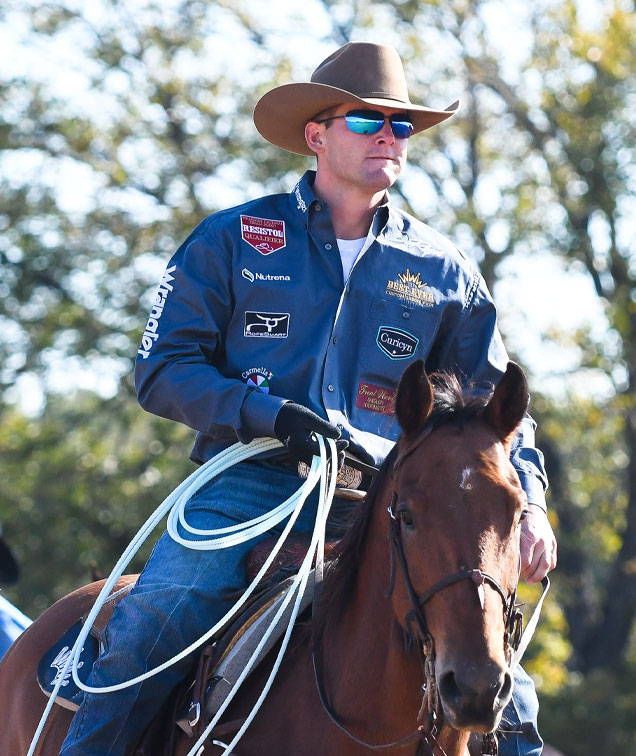 #1 in PRCA Standings (2021)

4X NFR Qualifier


I won't feel
like I've accomplished too much until the season is over. If I'm number one after that, I will probably feel like I've accomplished something.
Heading into the 2021 NFR in Las Vegas next month, team roper Dustin Egusquiza sits on top in the world standings. But ask the four-time NFR qualifier if he's excited about his place in the rankings, he'll tell you there's still a bit of unfinished business.
"I won't feel like I've accomplished too much until the season is over," Egusquiza says. "If I'm number one after that, I will feel like I've accomplished something."
Egusquiza's season has seen him grab some impressive wins and a prize haul of $147,000, including the $21,700 he won at the RAM National Circuit Finals Rodeo in April.
"I'm happy to have had a really good year so far," he says. "I just want to finish it out."
The 2021 Wrangler National Finals Rodeo is set for December 2-11 at the Thomas and Mack Center in Las Vegas, home of the Runnin' Rebels. The arena, which seats nearly 20,000 spectators, sits on the University of Nevada at Las Vegas campus.With his team roping partner Travis Graves by his side, the Florida native is ready for the bright lights of Vegas.
"It's an awesome environment," he says. "It's like the whole city's there for the rodeo. Walking around with your back number on, you just feel like you're the center of attention. It's a good feeling."
Come NFR time, Las Vegas turns into a rodeo mecca not only for the pro athletes competing but also for all those rodeo fans in cowboy hats and boots. Egusquiza loves the vibe.
"It's like nothing else," he says. "I had always dreamed about what it would be like out there. It's just unbelievable - better than I could ever imagine. Seems like everybody in the city knows something about rodeo. It's pretty cool."
In 2020, the NFR was moved from Las Vegas to Globe Life Field in Arlington, Texas due to restrictive COVID-19 guidelines that made the switch necessary. Egusquiza is thrilled to be going back to Vegas.
"I'm really excited," he says. "This is my favorite time of year."
350: The Ford Truck he drives
6: Cowboy hats
4: Pairs of Boots
45: Minutes away he lives from roping partner Travis Graves
10: Number of acres he lives on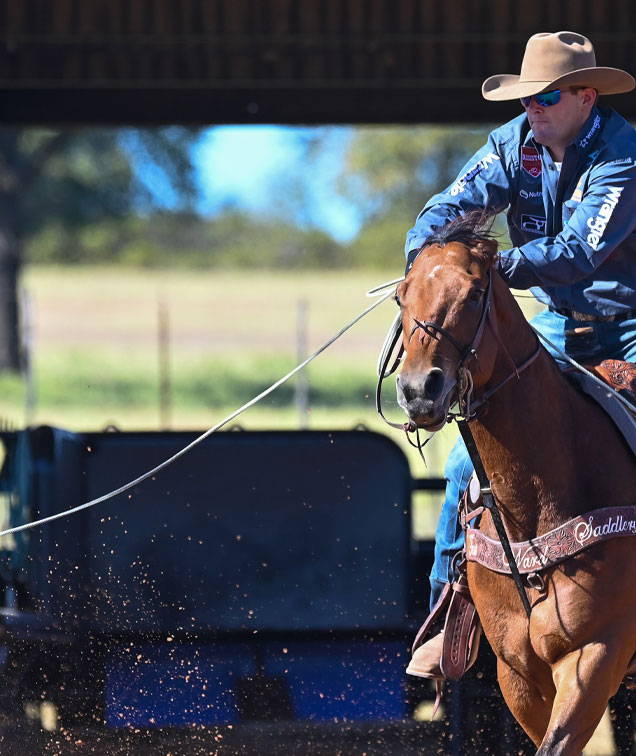 The Lone Star Helix Head Rope is uniquely engineered, and features a multi-directional, double-twisted core, to allow the center core to counterbalance the rope as a whole. This, combined with our evenly tensioned and precise core shell strands, allows our ropers an industry first choice of weight and size in the same feel and constructed rope. This rope has a smooth body and a fast feel.
Three sizes:
LT - The smallest diameter and lightest of the 3 sizes
ST - Middle of the rode in diameter and weight
MX - The largest and heaviest of the 3 sizes